August 5, 2014
By Kyle Bonagura | ESPN.com
OAKLAND, Calif. — The family of Ted Agu, a Cal player who died after a training run with teammates in February, filed a wrongful death lawsuit against the Regents of the University of California on Tuesday in California Superior Court.
The lawsuit alleges "reckless and negligent behavior" by Cal football trainers and coaches for "subjecting Agu to a lethal conditioning drill for a player with known sickle cell trait."
It also contends the university was negligent in hiring associate athletic trainer Robert Jackson, who previously worked as a trainer at Central Florida and was the sole certified athletic trainer present when former UCF football player Ereck Plancher died after a training session in 2008. Like Agu, Plancher had sickle cell trait. The suit says Jackson was the most experienced trainer present when Agu died.
Agu, 21, was on a supervised run with teammates near Memorial Stadium on Feb. 7 and struggled to finish. According to Cal team physician Casey Batten, members of the training staff recognized Agu was struggling, pulled him out of the run and transferred him by cart to the team's medical facility inside the stadium.
"He was on the back of the cart, he was talking, he was hydrating, he did not exhibit any labored breathing or other signs until he got to the north tunnel," Batten said in February.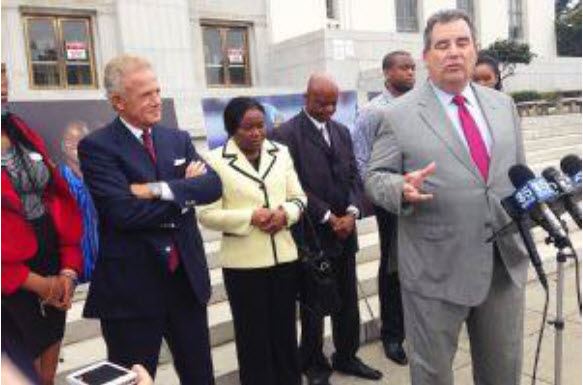 Courtesy Kyle Bonagura: Agu family attorney Brian Panish said the family is seeking "substantial" damages in its wrongful death lawsuit against the UC regents.
Agu collapsed around 7 a.m. CPR was administered, and he was taken to Alta Bates Summit Medical Center, where he was pronounced dead, according to Batten.
Lawyers for the Agu family stood on the steps outside the Alameda County courthouse Tuesday and told a different story.
"That story [that it was an ordinary training run] is totally erroneous and factually flawed," said C. Steven Yerrid, a lawyer for the Agu family who also represented Plancher's family in a similar suit against the UCF Athletics Association. Yerrid said Agu's family reached out to him after learning of the Plancher case. "It wasn't an ordinary workout. It was an extraordinary workout that they'd never done before."
Yerrid said the workout consisted of eight teammates running up a hill, 10 times, while all attached to a rope.
"It'll be very interesting to see the accounts of the people that were there, as opposed to the people who are floating these lines that are seemingly helpful," he said.
Yerrid added the legal team plans to call on current and former Cal players to testify and urged current players at Cal "to come forward and tell the truth." The Alameda County Coroner's office said in April that Agu died of hypertrophic cardiomyopathy, which is an excessive thickening of the heart muscle. Yerrid and another Agu family lawyer, Brian Panish, said Agu's death was brought on by the sickle cell trait and not a heart condition.
The NCAA requires universities to test players for sickle cell, and Yerrid and Panish said Cal had been aware of Agu's condition since he arrived in 2010.
Many athletes with sickle cell can play their whole careers without complications. But as the NCAA notes on its website, sickle cell "can affect some athletes during periods of intense exercise, when the inherited condition causes red blood cells to warp into stiff and sticky sickle shapes that block blood vessels and deprive vital organs and muscles of oxygen."
Yerrid said Agu experienced dizziness, shortness of breath, loss of balance and other signs of extreme fatigue. He said trainers took too long to respond and were not properly trained to care for a player in the sickling process.
In response to the lawsuit, the Cal athletic department released a statement Tuesday: "When Cal's medical staff on scene saw Ted show signs of problems, they reacted promptly. But as the Alameda County Coroner's report states, the cause of death was hypertrophic cardiomyopathy, which suggests there was little anyone could have done to save him.
"While we cannot discuss any student's specific medical history, we follow all recommended protocols, including those outlined by the NCAA, for all student-athletes with identified medical conditions. We want to make clear that we are committed to ensuring the care and safety of all our student-athletes, and we have great confidence in our athletic department's staff's ability to do so."
Agu's parents, his older brother and two of his three older sisters stood behind the lawyers in front of three large pictures of Agu on Tuesday but were instructed not to make any public comments.
There have not been any settlement discussions between Agu's family and the UC regents, according to Panish, nor is there a specific amount of money the family is seeking. Panish said a jury would decide damages, which he requested to be "substantial," and that he expects the case to go to trial in 12 to 16 months.
A defensive end from Bakersfield, Agu would have been a fifth-year senior this fall. He started his career as a walk-on before earning a scholarship and was working toward a degree in public health.
Cal began training camp Monday and opens its season Aug. 30 at Northwestern.
Information from The Associated Press was used in this report.