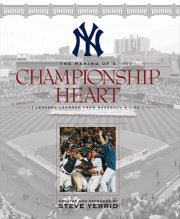 What makes a championship heart? What are those special ingredients consistently found in people who excel in life? Certainly, the journey through the human experience is full of challenges, difficulties, hardship and joy – but what makes those select few consistently succeed and rise to the top? Regardless of the endeavor, whether it is sports, business, family, service or in simply living a complete and meaningful life… what is the essence that makes people triumphant?
"To me, there is no greater championship heart than the one that beats for the betterment of others."
With almost a century of winning ways and a history of championships unequaled in professional sports, the New York Yankees were utilized to convey the traits and characteristics it takes to be a champion on the field, and more importantly, in life, in this beautifully designed and printed book.
Beginning in 2008, life-long Yankees fan Steve Yerrid interviewed numerous players from the Yankees (both past and present), team coaches, and team owners, the Steinbrenner family, as well as his close friend, 'The Boss' – George Steinbrenner. Eighteen key components emerged from those interviews that highlight the core of a championship heart – Preparation, Desire, Leadership, Hard Work, Courage, Vision, and Integrity, among others. "Few, if any, among us are blessed to have them all," Yerrid says in the book. "However, the more of these ingredients possessed by the individual, the more likely a champion will be found."
Hundreds of color photos from the Yankees' 2009 championship season, many never before seen, serve as a backdrop to the players' quotes. The book follows the team chronologically through their season, from spring training to the divisional and league championships, to their eventual 27th World Series win, all the while focusing on the traits and characteristics that got them there.
In addition, vintage pictures of former Yankee greats such as Babe Ruth, Lou Gehrig, Joe DiMaggio, Yogi Berra and Mickey Mantle, along with more recently retired players such as Reggie Jackson and Wade Boggs, are interspersed throughout the book. Their pictures appear in black & white and sepia to represent the Yankees' storied history; their accompanying quotes indicate they embodied the same winning traits the book celebrates today. Nearly 300 pages long, this stunning hard cover book is a visual treat, and its message an inspiration to fans of all ages. A portion of the proceeds from the sale of this book will go toward pediatric cancer research. "To me, there is no greater championship heart than the one that beats for the betterment of others," Yerrid says in his dedication. "It is my fervent hope that this work will be of some value in that pursuit … May all of your dreams and aspirations come true, and each day be filled with the hope of a better tomorrow."
To order The Making of a Championship Heart – Lessons Learned From Baseball & Life online, please visit: ChampionshipHeart.com, Amazon, Books-a-Million and wherever books are sold.